Date: 04 September 2023
Compression 360 degrees – Danish Lymphoedema Framework Seminar 2023 – with international speakers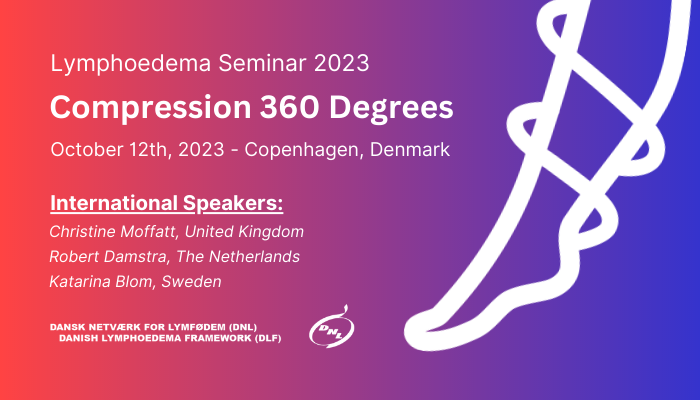 Compression therapy is essential for the management of lymphoedema and can help reducing and controlling chronic oedema. At this year's lymphoedema seminar, the Danish Lymphoedema Framework (DNL/DLF) is focusing on compression by discussing best practices, new as well as established treatments and techniques of compression. Why and how does compression therapy help? What are the patients' benefits and difficulties of using compression garments? And where do health care providers see the challenges of working with compression therapy? 
These questions and much more will be explored at the "DNL/DLF Lymphoedema Seminar 2023 - Compression 360 degrees" taking place on 12 October 2023 from 08:30-17:10 CEST in Copenhagen, Denmark. 
The programme includes Danish speakers (presenting in Danish), as well as three international speakers: ILF Chair Christine Moffatt (UK), Robert Damstra (the Netherlands), and Katarina Blom (Sweden) (all presenting in English).
The presentations will touch topics such as compression after liposuction, genital compression, external fixation, day and night compression, compression for bariatric surgery, and the patient perspective. Please find the full programme and more details here: 
https://dnl-dlf.dk/lymfoedemseminarer/lymfoedemseminar-2023