Date: 05 December 2022
LYMPHO News December 2022
[web]View this email in your browser[/web]
LYMPHO NEWS
Dear friends,

It's hard to believe that it is already December 2022. It has been another busy year for the ILF with the preparation for the next Conference in Nottingham, UK, in June 2023, new frameworks in Saudi Arabia and Croatia, a publication in the International Journal of Wounds, and continuing our international research into outcome measures, genital oedema, quality of life for children with lymphoedema, Child Limprint in Denmark, and preparation for a Limprint project to take place in Uganda (as a low resource country) and Saudi Arabia. In addition to that, many of our directors have been involved in presenting papers at conferences throughout the world and I expect a number of our readers have too. It is important that lymphoedema is known about within professional circles and that patients who have this disease are seen and heard. There are a growing number of lymphoedema sites on social media that are a helpline to many, and that maybe gives all of us a greater understanding of the size of the problem.

Towards the end of 2022 we said goodbye and a massive thanks to our Secretariat CAP for all their work and encouragement over the past years and welcomed Wound Care People to guide us further.

We thank each of our sponsors for all the help and backing you give us — we would really be lost without you and important research for those people with lymphoedema would not take place. It was good to be able to meet up with many of you during the year, to share our work and learn of your challenges in meeting the needs of our communities. And we look forward to that relationship continuing to develop.

In the Christian world we will soon celebrate Christmas; for Jewish people — Channukah; Buddhists — BodhI Day, and for others the Winter Solstice. Whatever you believe, wherever you are reading this, may we send you our greetings and best wishes and look forward to more interaction with you in 2023.

With best wishes from
Christine Moffatt and the ILF Board of Directors
ILF 2023 Conference in Nottingham, UK
The 11th ILF conference is to be held in East Midlands Conference Centre, Nottingham, UK from 13–15 June 2023. Topics that will be covered include cellulitis, psychological impact of living with lymphoedema, children and young people, lipoedema, surgery, resource-limited initiatives, data and pathways of care, compression, obesity, wounds, reducing the risk of lymphoedema, and much more.

We would value your thoughts on whether to hold a gala dinner at next year's conference. With the cost-of-living crisis and being a charity, we are questioning if we should be spending money in this way. To help guide our decision, please email info@lympho.org with your opinion. Thank you.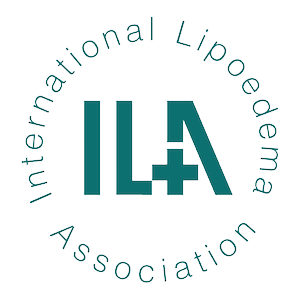 ILF 2023 is organised in collaboration with the International Lipoedema Association.

Registrations open shortly, so keep an eye on the ILF website to book your place.
Updates from International Lymphoedema Frameworks
Uganda
Following Christine Moffatt's recent trip to Uganda, the Ugandan team have now agreed to start developing a framework, starting with a pilot LIMPRINT project and a health promotion intervention (yet to be defined). During this trip, two successful stakeholder meetings took place. The first with traditional healers, patients and village workers, and the second a national stakeholder event which the Ministry of Health attended, offering support to ILF's work and to link this to the new strategic plan for neglected tropical diseases (NTDs), which has prime minister support.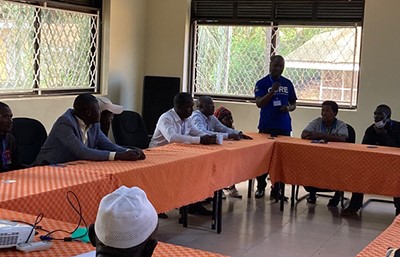 This work is thanks to the partnership between Linda Gibson and David Muskoe and the university partnership.
French Lymphoedema Partnership (PFL) Day


Held on 25 November 2022 in Montpelier, this partnership day brought together patients, professionals, patient support groups, organisations, providers and manufacturers for a day of education and networking. The event started with a presentation from the PFL, exploring its history and purpose, as well as links with patient support groups, healthcare professionals and the International Lymphoedema Framework (ILF).
During the afternoon, attendees had the opportunity to listen to Dr Gregoire Mercier and Jenica Pastor talk about Lymphorac (a medical and economic study) and then to participate in a round table discussion between patient associations and professionals. Interactive workshops concluded the day, followed by an enjoyable cocktail reception.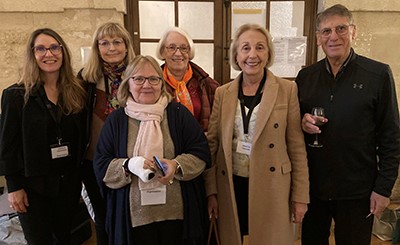 From left to right: Laurence Delaporte, Christine Ferrotti, Dr Marlène Coupé, Brigitte Vaissier, Guy Doladille and, in front, Professor Isabelle Quéré
Dr Julie Malloizel (Centre Hospitalier Universitaire [CHU] de Toulouse) and Dr Sandrine Mestre-Godin (CHU Montpellier) in the amphitheatre of the Medicine's Faculty of Montpellier
Date for your diary
2023 ISL World Congress of Lymphology
The 29th ISL World Congress of Lymphology will be held at the Magazzini del Contone Conference Centre in Genova, Italy, 11–15 September 2023
The Congress aim is to bring together the international lymphology community. Scientists, physicians, surgeons, therapists, researchers, industry and healthcare providers will share the most updated news on a subject that is getting more and more attention. The scientific programme will span five days, consisting of plenary lectures, expert panel discussions, free paper sessions, and instructional courses. A special section will be dedicated to patients and their associations. Satellite symposia and joint sessions will be organised with the other national, European and world-related societies. Read more here: www.isl2023lymphology.com
Industry support
The work of the ILF would not be possible without industry support. We thank the ILF Industry Partners for their continued engagement and support.
Learn more
Sign up to become an ILF Affiliate — it's completely free and will ensure you stay informed about the goals and activities of the ILF and the work of our national frameworks around the world. ILF Affiliates benefit from:

· Reduced fees at future conferences
· Regular updates on activities and resources
· Opportunities to network with national lymphoedema frameworks
· Opportunities to influence future activities and direction.